Social media is a big part of our everyday lives. But creating engaging or even informative content to share on your social networks can be time-consuming.
So how does a software solution help you post automatically without doing the job yourself?
Here are some great ways that social media content generators can automate posting on social media sites like Facebook, Instagram, LinkedIn, Twitter, and more.
After that, we'll go through the top 7 content generators for social media.
Let's get started.
What can social media content generators do?
Social media content generators like Ocoya can provide several benefits when used properly.
They allow users to schedule automatic updates in advance so that their followers will see relevant information at specific times. This means less manual updating for you, and more time spent on other tasks.
They help you save time by automating repetitive tasks such as caption creation, graphic design, hashtag selection, scheduling posts for best reach, etc.
However, it's important to note that these tools aren't perfect yet. As a result, they might produce posts that look awkward or contain mistakes. You may need to edit an automated update manually before publishing it.
Also, while most of these services have great features, there's no guarantee that they'll always work perfectly well. Sometimes, they might not meet your expectations. In those cases, you should try to edit your data inputs or possibly move on to another tool.
But if you're looking for a way to stay productive while spending less time on social media, then keep reading.
Use AI to Create Post Captions
Using AI writing software to create social media post captions is a great way to save time and have more control over content.
We can use this software to save time on social media posts by creating a template with the best caption for a certain image.
We can also use it to create a more detailed, long-form post caption that is more personalized and unique, or even tells a story.
Many social media influencers use the help of artificial intelligence to create captions for their posts. Artificial intelligence can create captions that are funny, shocking, or even controversial.
This way, influencers can widen their reach and stay on top of trends on social media, and it doesn't take them as many hours out of their day as it would to manually do this.
Social media managers can also use these tools to grow and scale their business at a rate far greater than by hand or through hiring more employees.
Create Graphics Automatically
Another major drawback of existing social media content generators is that they struggle to generate graphics.
Many of them only offer templates that require manual editing, which isn't practical if you plan to post dozens of pictures every day.
This is where software like Ocoya comes in handy. It's a somewhat new and fresh AI platform for automatically generating professional-looking social media graphics.
They also have the powerful software of Canva built in with over 10,000 templates and millions of stock photos to use.
You can even save your brand identity in the software and make sure all of your AI generated images are on brand.
Find Most Relevant Hashtags
Hashtag usage has become extremely popular among modern internet users. Everyone wants to engage with others through trending topics. That's why finding relevant hashtags becomes increasingly difficult over time.
In fact, according to research conducted by Tagboard, the average person now searches for over 200 hashtags per month.
With so many choices, it can be hard to know which tags are right for your post.
To solve this issue, you can try using a social media content generator to suggest hashtags based on keywords. Some services let you search up to 10 terms at once, allowing you to find the right tag quickly.
One example is HashTags Generator.
Once you enter your keywords, it checks whether the resulting hashtags are already being used frequently. If so, it suggests alternatives that are not commonly linked to.
It uses both Google Trends and Trendalyzer to determine popularity. Additionally, you can filter hashtags by region, language, and category.
Overall, the process is pretty straightforward. Just enter your keywords, set your preferences, and wait until you receive your suggestions. It takes about two minutes to get your first batch of hashtags.
Schedule Posts for Best Time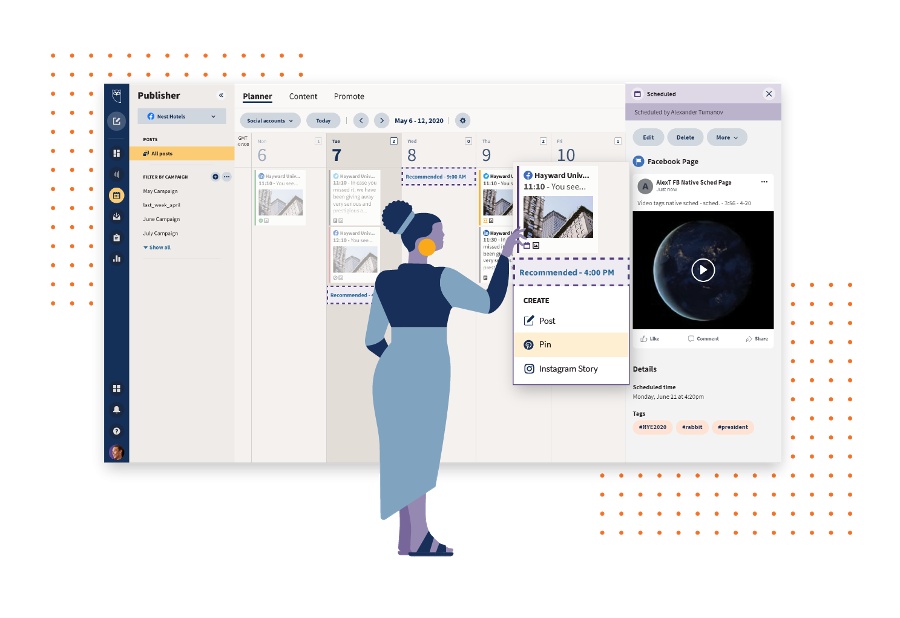 Scheduling your posts ahead of time could help increase engagement significantly. People tend to read articles during peak hours, especially during lunchtime.
Since most people spend their mornings scrolling through their feeds, it's worthwhile to maximize your reach by posting at the optimal moment.
For this reason, many social media content generators come equipped with scheduling capabilities. They usually support scheduling updates to various social media accounts simultaneously.
Some providers let you define the exact date and time when your posts must appear. Others, however, just show you a random time slot.
For example, Buffer offers three different types of social media scheduler—Buffer Scheduler, Schedule Planner, and Buffer Calendar.
While these tools are convenient, they won't necessarily give you the best reach.
Therefore, if you're focused on publishing and scheduling, we recommend using a dedicated platform like Hootsuite. It lets you schedule updates to several social channels at once. What's more, you can add custom reminders to ensure that you never forget to publish something.
Hootsuite also provides analytics showing who saw your post, how long they looked at it, and more. You can access all of these metrics from the Hootsuite dashboard.
However, while Hootsuite specializes in post scheduling and analytics, it is lacking on the AI text and graphics generation features.
So let's finally get into the actual AI-based, minimal input from you kind-of software that everyone can use.
Best Social Media Content Generators
It's fresh, it's hot, and it's new.
There's no denying it, AI content generators using GPT-3 / GPT-4 are all the rage, and a lot of these older companies are missing this important feature.
Social media is a great way for brands and businesses to connect directly with their audience. However, it's not always easy creating compelling content that keeps users engaged long enough to click through your links or follow your page.
That's where artificial intelligence comes into play. With the help of machine learning and natural language processing capabilities, AI-driven platforms allow you to generate custom captivating content in minutes without writing one single word yourself.
In this article we list seven of the best social media content generators powered by AI technology. So, keep reading as we walk you through these cool tools…
1.Predis.ai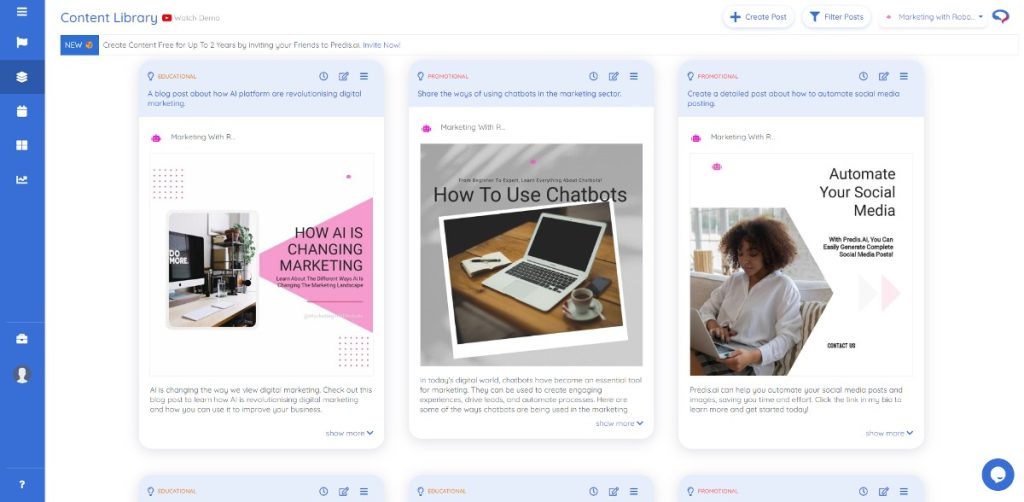 Predis.ai is a new social media post generator with some serious functionality.
It recently made the top of this list after our latest review.
The most stand-out features of Predis.ai is that you can set up your brand kit with your fonts, colors, and social handles and the program handles the rest.
Simply put in what kind of post you want to create and the AI will put together the image, caption, and hashtags automatically.
From there, you can edit the post or schedule it to publish directly from within the app.
Using Predis.ai is the quickest and most efficient way to create bulk posts and set them to publish.
Sign up for your free trial of Predis.ai here to test it out for yourself.
2. Ocoya AI
Ocoya AI lets you quickly whip up high-quality creative images using AI.
With Canva built-in, all you need to do is select a template, tweak the image text and elements, and click publish.
The platform can automatically add relevant hashtags and tags so that people searching certain keywords can find your post. You can also customize the generated caption if needed.
And when you're happy with everything, share your creation straight away via Facebook, Twitter, Instagram, Pinterest, Snapchat, Tumblr, etc., or embed it anywhere else online.
All in all, it's probably the most full-featured and most effective tool on our list of social media content generators. Plus, you can try out its free version first to see how powerful Ocoya AI really is.
Try Ocoya for free, or you can read our full Ocoya review here.
3. Rapidely
Rapidely helps you come up with ideas and write posts for social media accounts across different industries. You can use it for your business, your blog, or even your personal accounts.
What's great about Rapidely is that it gives you a lot of suggestions to work with.
For example, if you're in the health industry, you might get ideas for posts about healthy eating, workouts, or mental health tips.
Or, if you're in finance, you might get suggestions for posts about saving money, investing, or financial planning.
The platform is also really easy to use. You just select your industry, and then Rapidely gives you a bunch of different ideas for posts, including hashtags, quotes, questions, and call-to-action statements. You can even see a real-time preview of how your posts will look on various social media platforms.
Overall, I'd say Rapidely is a helpful tool for anyone who wants to create engaging social media content quickly and easily. It saves you a lot of time and effort, and it gives you a lot of great inspiration for new posts.
The only main downside to this tool is that you cannot post directly from their website. You will need to copy and paste your posts over to the platform you're using.
If you're struggling to come up with ideas for your social media accounts, give Rapidely a try and see what you think! Check out our entire review here.
4. Jasper AI (Formerly Jarvis)
Jasper is a social media content writing software that utilizes AI that can be used to generate high-quality posts for social media. It can be used by companies, agencies, and individuals to generate posts for any type of social media platform.
The Jasper AI writing software was developed by a team of content creators with years of experience in the industry. The software is designed to make the process of creating social media content more efficient and less time-consuming.
Jasper has been designed to work with different types of businesses and industries such as digital marketing agencies, brands, influencers, and bloggers.
This enables users to quickly create high-quality posts that are tailored to their specific needs without having to do any extra work themselves.
Overall, it can be intimidating at first, until you've spent time familiarizing yourself with the app's interface and going through the instructions, tutorials, and writing recipes.
While the price might seem steep, the high quality of output and long-form AI writing possibilities could justify it.
Try Jasper AI today and get 10,000 words to use for free or you can read our full Jasper AI review here.
5. Rytr AI
Rytr AI is a text content generation tool for social media managers. It provides caption and post ideas based on what you input for a post topic idea.
Users can search for any topic or hashtag and Rytr AI will provide them with a list of relevant captions and post ideas. They can then edit the captions or posts to their liking before posting them on their social media channels.
The user interface is very intuitive and easy to use, which makes it perfect for novice content creators who want to get started with social media management without having to spend too much time learning how to use yet another new software.
While Rytr lacks the image generation aspect, it is affordable enough to pair with other software.
Try Rytr today or you can read our full Rytr review here.
6. Lately.AI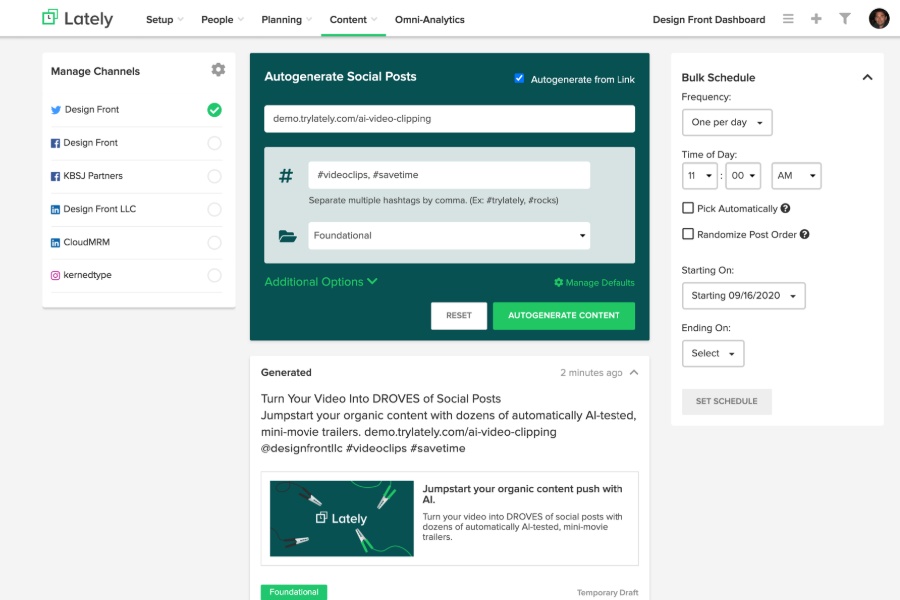 It's worth noting that while Lately.AI's selection may feel limited compared to other services, it does provide better results than say, Jasper AI, due to its advanced neural network architecture and ability to generate audio and video.
Lately.AI only allows publishing to social media through Hootsuite or HubSpot, so keep that in mind as you will need to use other software in combination with this one.
You can also turn your existing videos into bite-sized shareable social media posts automatically.
Overall, if you value simplicity above everything else, Lately should be your go-to option.
There are many different tiers of plans to choose from, with the basic 'Exportly' plan only allowing for CSV exports. With that said, it is highly recommended to at least choose the 'Litely' plan to allow for post publishing in the app, AI recommended keywords, and 500 posts per month.
Visit the Lately.AI website here for more info.
7. HelloWoofy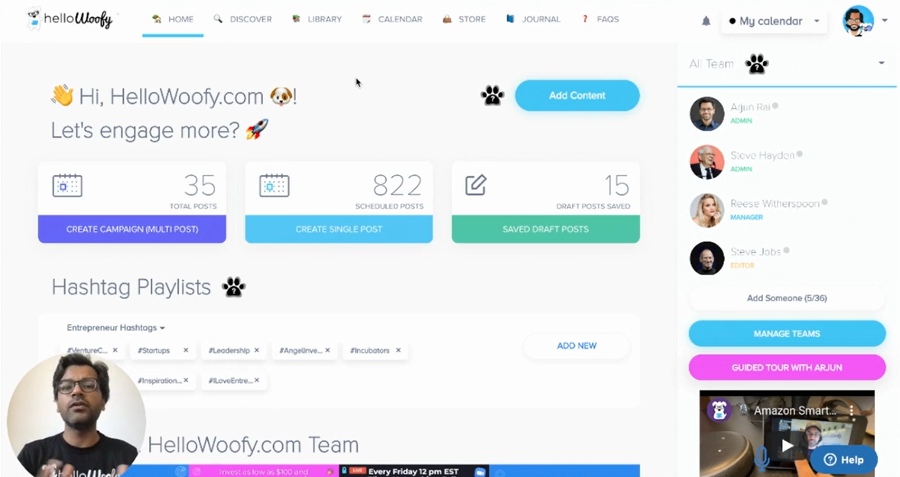 HelloWoofy is another graphics and text generator for social media that has Canva and Crello both integrated.
There are several different plans at varying price points to suit the needs of social media managers of all sizes.
Automatically create text, captions, and hashtags while you quickly put together graphics in Canva and Crello and schedule out tons of posts ahead of time on your calendar.
Try HelloWoofy for yourself here.
Keeping Realistic Expectations
As mentioned earlier, AI algorithms analyze large amounts of data and extract patterns to figure out what customers would like.
Currently all of these AI social media content generators utilize machine learning techniques to create original posts. They typically rely on information scraped from public websites, forums, blogs, news articles, etc.
We can say however that many GPT-3 focused software will generate unique, plagiarism-free text that will work for any use.
Automated and AI-generated graphics still have a ways to go, and does require more human input than other text-based functionality.
Just know that you shouldn't expect mind blowing results immediately, especially while still learning how to use the tools.
Rather, spend some time getting acquainted with the software and gradually improve upon your skills and ability to manipulate the AI to do what you want.
If one doesn't work out for you, move on to another and give it a fair shot to see if any of them can meet your needs. When you find one that does, you can save yourself many hours and let a robot do the heavy lifting for you.
Remember that automation is only useful if it works flawlessly. Therefore, it's necessary to test your chosen generator thoroughly before sharing it publicly. Try testing it on a personal account to avoid embarrassing errors.
Which Is Your Favorite?
Now you know how important it is to utilize social media content generators to automate your social media marketing efforts, and you have a list of great potential software to use to make your job easier.
While some of them may seem complicated at first, they really simplify the whole process by providing a pre-designed interface.
There are plenty of ways to turn boring tweets into exciting posts.
Whether you prefer to write your own thoughts or handpick curated ideas, hopefully this list helped you discover new social media content generators and can help with writer's block.
Looking for more inspiration? Read some of our content from our largely AI-generated blog!