Many people who are on social media are struggling to come up with posts consistently.
This is especially true for people who have a small following or don't use social media often.
If this sounds like you, then you should know you can use Predis.ai to come up with posts on social media and automatically publish them for you.
Continue on to read our Predis.ai review to learn more about the features, functions, costs, and more.
What is Predis.ai?
Predis.ai is a software that is an all-in-one solution for social media posts in any niche.
This software has the capability to create posts in bulk, and make them more personal depending on the type of content that is being posted.
Predis.ai also has a section for saving templates for repetitive posts, which can be edited and customized as necessary.
How does Predis.ai work?
With Predis.ai, you can create posts for all of your social media accounts without having to write any of them yourself.
Just tell the software what type of post you want to create – whether you're promoting a product or your business – and Predis.ai will write it, put together a graphic in your brand colors, recommend hashtags, and schedule it in your content calendar.
The best part about Predis.ai is that it can use your brand colors , logo, and even set the text for you.
Simply set up your brand kit, click create post, and let the AI do the rest.
Be sure to check out our list of other ranked AI-powered social media content generators here.
Start Generating Facebook & Instagram Posts for Free
Get a Free Trial of Predis.ai
Who is Predis.ai for?
Predis.ai is great for social media managers who want to save a ton of time creating new posts consistently.
Whether you're managing one brand or several, there is a plan to match your needs.
You can post automatically across all the biggest social media platforms: Instagram, Facebook, LinkedIn, and Pinterest.
Predis.ai can even integrate with your e-commerce platforms such as Shopify and WooCommerce to insert your products and images into posts.
Features
Predis.ai has a host of awesome features that make it one of the best social media post generators out there.
In no particular order, here are some great features that make it worth the money.
Complete post ideas generated by AI
When you click 'Generate Posts', that's exactly what you get.
The AI generates every bit of the post so you don't have to do anything.
In a couple clicks, Predis.ai automatically generates:
An image with your brand identity
An engaging post caption
A call to action
Hashtags
If there's a particular piece of the post you don't like, you can simply click 'Edit' and swap it out with other AI generated creatives.
Post engagement predictions
Predis.ai also has social media post engagement prediction features.
This AI is so smart it can tell you how it thinks a post may perform.
Social media marketers, influencers, and brands can estimate the amount of engagement that a post will receive using Predis.ai.
It can be used to estimate the number of impressions, likes, shares, click-throughs, and comments a Facebook, Twitter, or Instagram post will receive in two weeks.
You'll need an already existing account with metrics for the AI to compare first to use this feature.
Hashtag recommendations
Let AI choose the hashtags for you!
Predis.ai will scan your generated post to discover relevant hashtags based on your caption, creative, and keyword.
Simply click which ones you want to have them added in the post.
Image suggestions
Don't like the image that the AI put together for you? Change the template or what images are used with a simple click.
No need to go searching for more images, it's all built into the app which makes posting so much quicker.
After all, getting the right images and eye-catching pictures is one of the hardest parts of staying consistent on social media.
Brands and style kits for posts
Similar to software like Canva, you are able to put in your brand colors, fonts, social media handles, websites, logos, and hashtags to have them automatically inserted into AI-generated images.
This helps to make sure that all of the images you post on your socials follow your brand guidelines and makes them look more 'you'.
Post Scheduling & Calendar
With AI doing all the heavy lifting, you can easily schedule hundreds of social media posts in advance.
Keep track of what posts are going out, as well as your engagement and growth goals.
Pros
I love the premium version of Predis.ai and have used it for my own projects.
Here are some of the unique pros to reasons you should try Predis.ai for yourself.
Affordable
Start Generating Facebook & Instagram Posts for Free
Get a Free Trial of Predis.ai
Starting out with a free trial of the solo plan, or using the free trial can help you determine whether Predis.ai is worth it or not.
Even on the free plan, you can get 15 AI generated posts per month, but you'll have their branded hashtags in your posts.
It's worth upgrading to at least the Solo plan at $25 per month for the complete software.
If you have multiple social media accounts to manage, you'll need a higher tier plan which is priced appropriately and with unlimited post generation.
AI Generated Graphics
Very few AI companies out right now are able to automatically generate your graphics for you, let alone with your own brand style.
That's where Predis.ai really shines.
The software will combine stock photos as well as text, shapes and colors to create a 100% unique social media graphic.
Text & Post Copy
The text in the posts and captions is great.
Captions stay on topic, and use a proper AI copywriting framework.
They even all include a call to action at the end.
If you want to make any changes to the text, you can just click edit, make your changes, and schedule your post.
Easy to Swap Creatives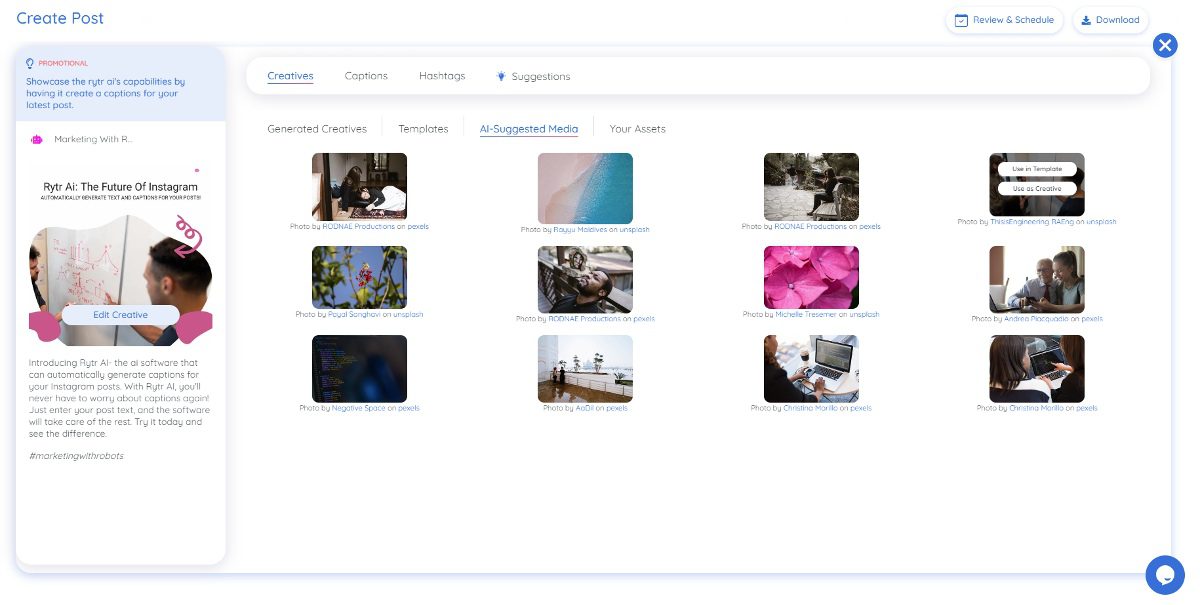 If you loved everything about the post except for the image used (or even the whole template), it's easy to change.
Simply go to edit the post, and insert another stock photo in the template.
Cons
What would a review be without a list of cons?
I loved this software, but here are some things that I thought could use improving.
Image Quality
If you've ever dealt with any AI software before, you'll know that sometimes the output can be pretty bad.
Unfortunately, even with Predis.ai, you may go through some extra post generation credits to get an image you're satisfied with.
On the bright side, it is still one of the best for generating complete social media posts with AI.
Predis.ai Cost
The cost of Predis.ai varies greatly depending on which plan you're on.
Free plan = $0 / month: 1 workspace, 15 posts per month, 10 competitor runs, but has Predis.ai hashtags and watermarks
Solo plan = $25 / month: 1 workspace, 120 posts per month, 60 competitor runs, 2 team members
Starter plan = $49 / month: 2 workspaces, unlimited posts per month, unlimited competitor runs, 2 team members
Agency plan = $126 / month: 7 workspaces, unlimited ai generated posts per month, unlimited competitor runs, 6 team members.
If you're an agency or work with many clients, you will need the Agency plan, since that is the only one with more than 2 workspaces.
A single entrepreneur can settle for the solo and starter plans to manage 1 – 2 brands.
Predis.ai Review: Is It Worth the Money?
We rate Predis.ai as an 8/10 for social media post creation software.
You can whip up so many different posts very quickly, all with unique graphics using your brand identity.
The ability to create the entire caption and recommend trending hashtags simultaneously is a big plus as well.
The only thing holding this software back right now is that they are not always great image outputs, and you'll probably have to use a few post generations to get your perfect result.
On the bright side, it's one of the best social media content generators available right now, particularly if you are not requiring your images to be of the highest quality.
Start Generating Facebook & Instagram Posts for Free
Get a Free Trial of Predis.ai
Please use our links to support a human in need.
You could consider checking out our Ocoya review as well if you are on the fence about Predis.ai.