If you want to get started making extra cash from home as a writer, there are several ways you can go about doing this.
One of the newest and easiest methods in 2022 is to use artificial intelligence (AI) software to write blog posts for you automatically, and then sell them to clients who hire you.
If you want to learn how to make money blogging with AI software, here is our thorough, step-by-step guide.
The best part? You can start today, with little-to-no experience in writing.
You don't need a website, or to pay for hosting, or to sign up for a bunch of affiliate programs and try to research and rank your own articles.
Make Money Selling Your AI-Generated Blog Posts
This method isn't perfect but it's a great entry point into earning some extra income online if you're new to blogging in general, or if you just need to scale up to be able to write more blog posts to make more money.
You really won't need any professional writing experience either. Even if you've never written anything longer than a tweet before, then this will still be easy for you.
It does make it even easier if you are already an experienced writer, though.
You can also charge more per article when you learn better SEO strategies too.
This tutorial was done using Wordplay.ai writing software. However, you could easily adapt these steps to other similar services such as:
Keep in mind that Wordplay and ArticleForge are the only AI software on the market that have the option to automatically (and reliably) generate complete blog posts in 1 click, which is why we will use this to save us hours and hours of time.
For more information on this software, read our latest review of WordPlay.ai here.
Alternatively, check out our ArticleForge review as an excellent alternative for 1-click blogs and you can follow the same process.
1. Create a Wordplay.ai Account for 1-Click AI Articles
The first thing you should do after reading through this entire process is head over to Wordplay.ai and purchase one of their plans.
The minimum plan we will need for this method is the base lifetime 8,000 word plan, which will give us the following functionality:
Long-form AI writer with 3 different modes: single article, bulk creation, and AI mode
Generate 1,500+ words from a keyword or phrase
The flexibility to define subheadings for more control over your content
The capability to create 50+ articles in one click using AI Mode
A WordPress plugin so you can bulk import and schedule your content
Locks in early adopter price (this software will get popular quick)
Purchasing through their website from this link gives you a better deal than purchasing through vendors like AppSumo.
Get the Best AI Software for 1-Click Articles
Get Wordplay.ai Now
We will hold off on creating any content with this software until we create our profiles, get job offers, and accept our first writing jobs from clients.
If you've found good results and need to scale up, you can upgrade your account to a monthly subscription or request to stack another Lifetime deal with the company.
Remember, you only have to pay one time for this software! No subscriptions necessary.
2. Sign up for Upwork, Textbroker and / or Fiverr
Next, we will need to register for accounts on Upwork, Textbroker, and / or Fiverr.
Signing up for these websites allows you to access their massive database of available writing projects. Most of them require little to no skill level.
For the most visibility and best chances to find a writing job that will pay quickly, you'll want to create an account on all 3 of these websites.
Upwork
Upwork has been helping freelancers build careers across industries since 2005.
They offer thousands of job listings daily, including roles in marketing, design, programming, sales, web development, customer support, translation, project management, content creation, copywriting, product management, etc.
For this example, we will be focusing on writing ~1,000 word blog posts only.
If you want to charge more or provide articles with a higher word count, feel free to do so. You can charge significantly more for larger blog posts, you will just need a decent plan with word counts.
Textbroker
Textbroker lets users bid on various gigs ranging from social media posting to ghostwriting.
When someone wants to hire you, they send an introduction letter detailing what kind of task they would like completed.
From there, you submit bids based on your hourly rate. Users pay the winning bidder directly via PayPal.
We will focus our jobs on writing around 1,000 word blog posts for clients.
Fiverr
Like Textbroker, Fiverr also provides freelance gig opportunities to its community members. Unlike Textbroker though, anyone can join without charge.
On top of that, you can set your price range anywhere between $5-$500+ depending on which service you decide to focus on.
Create an account and create a job posting that says you will create 1,000 word blog posts for whatever price you choose.
Keep in mind on this plan you will get access to between 8 and 100 1-click blog posts, so try to calculate what a reasonable income for you to make per blog post would be based on your Wordplay plan.
I would recommend doing no less than $20 per project starting out, as $5 is simply not enough to make it worth the effort, even if you're only spending 5 minutes creating the article.
Clients will contact you through the Fiverr platform when they want more information or to communicate for the jobs.
3. Fill out your Writing Profiles Completely
You must be sure to fill out your writing profile properly, otherwise you risk being rejected, or appear untrustworthy to potential buyers.
In case you haven't heard, it's important to include specific details about yourself in your profile page.
Think of it like a resume. Include information about your education, skills, professional achievements, personal interests, hobbies, etc.
Anything that helps potential employers narrow down exactly what type of writer they're looking for.
Next, mention whether you speak English fluently or not. List off languages you know well. If you struggle with a particular language, include proof of learning.
Take inspiration from other profiles on these websites and mimic what the best ones are doing, while putting your own unique flare on it.
4. Request Title / Topic, Description, Keywords, & Outline from Client
Try to at least get this information from the client before you start work on their blog post.
In your writing profiles, make sure that you mention in there that you need these specifics before you start, so you can get the closest article that matches their expectations:
Title or Topic of the requested blog post
A short description or meta description for the content
Suggested keywords
An overall outline of what the client would like covered in the blog
Since we will only get about 8 instant blog generations per month on the base plan, we want to make sure that we are able to use and sell as much of them as possible.
We can always upgrade once we're selling more than 8+ articles in a month.
Remember, the better and more descriptive data you put in, the better and more on-track the AI will be able to write your blog.
If you've purchased a higher tier plan, you will have much more flexibility with your content generation.
Tip: If you don't have a client project intake form already and want to make it easy on yourself, create a Google form with the info you need from the client.
5. Put Client Blog Requirements into Wordplay AI 1-Click Blog Generator
The reason we request all of the information from the client is simply to make our job easier, and to make sure we get the closest data back from our AI software as possible that our client will be happy with.
Once you enter the 1-click articles section of the Wordplay.ai software, all you'll need to do is click 'Proceed & Submit Job'.
The software itself will create new and unique text from AI based on your title and headline, and is even able to reference different sections of the article.
6. Proof Read and Fact Check the Article
Do NOT send this to the client yet!
First, review the article and read through it carefully. You will need to take some time to fact check and edit the work.
It's important that you are 100% confident with the quality of work before you take money from the client.
As a rule of thumb, you should aim to double check every single sentence and paragraph.
If you see grammar mistakes, spelling errors, factual inaccuracies or any other errors, make sure you fix them before sending to the client for review.
Sometimes this takes no more than a couple minutes, but other times (often depending on topic complexity) you may find yourself needing to do a lot more editing to get the article your client will accept.
7. Tweaking, Formatting, & Editing AI Generated Content
If you find that the article doesn't completely match up to you and your clients requirements, copy the output and paste it into a Word document or Google Doc for editing.
Read through it again, space out your text, add any links or additional text necessary for the client.
You may have to delete any junk text output or replace it with things that make more sense.
What to Charge for an AI Written Blog?
Overcharging can lead to too high of expectations, wasted articles, and stress. But undercharging can leave you with too much work and not enough money for a decent pay off.
Let's do some basic math to consider what we should be charging for writing blog posts with AI and selling them to clients.
Luckily, we won't have any monthly costs to worry about with this software. Only a one-time, upfront payment is necessary and you can profit from then on.
Here are a couple pricing structure examples we can use to calculate our profits if we were to use and sell all of our allotted 1-click blog posts per month:
Selling 8 AI Blog Posts Profit Calculation: Tier 1 Plan @ $99
Consider the basic tier one lifetime plan at a mere $99, which can give you up to 8 separate 1,000 word blog posts per month:
8 automatic blogs per month x $40 charge = $320 per month
8 automatic blogs per month x $100 charge = $800 per month
Selling 16 AI Blog Posts Profit Calculation: Tier 2 Plan @ $199
If we upgrade our account to the second plan, we can double our allotment of 1-click blog posts from 8 per month to 16 per month:
16 automatic blogs per month x $40 charge = $640 per month profit
16 automatic blogs per month x $100 charge = $1,600 per month profit
Selling 32 AI Blog Posts Profit Calculation: Tier 3 Plan @ $399
On the third tier, we get double the word count from the tier 2 plan, which will allow us around 32 1-click blog posts at around 1,000 words each.
32 automatic blogs per month x $40 charge = $1,280 per month profit
32 automatic blogs per month x $100 charge = $3,200 per month profit
Selling 100 AI Blog Posts Profit Calculation: Tier 4 Plan @ $999
While the price point at the forth tier can be intimidating to some, if you are a writer you have probably already spent thousands of dollars on other writing software.
In this case, we'll pay $999 one time and get the ability to create 100 unique blog posts in a single click every month.
100 automatic blogs per month x $40 charge = $4,000 per month profit
100 automatic blogs per month x $100 charge = $10,000 per month profit
Keep in mind Fiverr, Textbroker, and Upwork will all charge a small separate fee for getting work via their platform. At this scale it will be pretty negligible but we can assume a 2% – 5% platform fee.
Instant Access to 1-Click Articles
Get Wordplay.ai Here
Tips and Advice for Writing AI Articles for Clients
Now that you have a better idea of how to make money blogging with AI writing software, here are some additional tips that will help you succeed and satisfy your clients.
Make sure to give clear directions on what you intend to accomplish with each individual post. Provide detailed explanations for both non-technical readers AND people unfamiliar with your area of expertise.
Keyword Research & Search Engine Optimization
An important feature that a lot of clients are going to be looking for is to make sure that their content is SEO optimized to rank in Google.
Make sure to include popular keywords and consider what this blog post should be ranking for.
If you are well-versed in SEO techniques, you can add this info into your profile and charge extra for making sure the articles are SEO optimized.
A few good keyword research tools are:
Simply pick one or two of these keyword research tools, plug in your chosen keywords provided by the client, and make sure the content includes these words. Simple, right?
Ensure You Meet the Client's Requirements
Make sure that you are able to meet all of the client's requirements.
Even if you sometimes exceed expectations, most writers tend to underestimate word count initially.
Auto-generated blog posts from the Wordplay.ai software will generally be between 700 – 1,500 words, most often around 1,000 words.
Most importantly: Never forget to ALWAYS include a brief summary of the main points you hope to cover.
People generally dislike long paragraphs filled with unnecessary fluff. Keep your summaries concise and informative, and break up your content with helpful headings.
Getting Feedback for Improvements
And finally: After completing an assignment, you should request feedback before moving onto another one. Ask questions like:
What did you like about my article?
What could be improved upon?
Is there anything else you wish to discuss regarding this project?
Is there anything else you wished to bring up?
If your client was happy and satisfied, make sure to ask them to leave you a 5 star review. Which leads us into our next segment..
Get Great Reviews, Avoid Bad Reviews at All Costs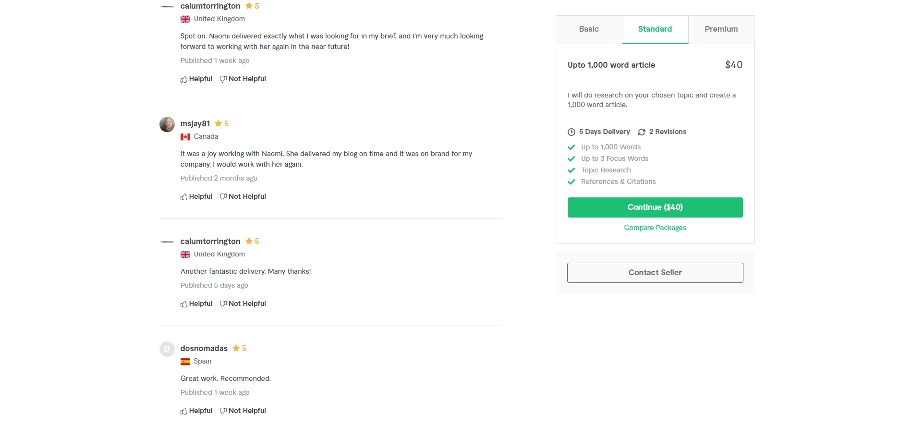 Your reputation is extremely important on these writing platforms.
If you want to get more writing jobs, prospective clients have to see that other people have used you and loved their results.
If they just see a bunch of 1 star reviews on your profile, they will simply move on to someone else with better reviews.
Do whatever you need to do to make sure that you can get as many 5 star reviews as possible and take care of unhappy clients. Even if that means you need to provide a refund.
You may want to even take a few lower paying jobs as you start out to work on and improve your reputation and appear more authoritative.
Bad reviews can ruin your reputation, and prevent you from getting new jobs.
Final Notes on Making Money Using AI to Write Blogs for Clients
Do note that a lot of these AI writing tools aren't always 100% reliable.
Sometimes you'll still encounter errors and poorly formatted pieces, or even get back content completely unrelated to your inputs.
Make sure that you provide as much valuable and detailed inputs to get the best output out of our AI blog generation software.
It will take a lot of trial and error to perfect your strategies for AI content creation to get better consistent outputs.
You can also try approaching a human editor whenever possible. At least for the sake of your sanity.
Have you ever used AI software to help you earn extra money writing blogs? Know of any other alternative options to consider?
Please share with us in comments below! We'd love to hear from you guys.