It's like Canva for videos!
If you are a video creator or social media marketer, then you know how important it is to have great looking graphics, videos, and GIFs that are unique and stand out from the crowd.
Today, we'll be reviewing FlexClip, a web-based software that can help you create eye-catching videos, and GIFs quickly and easily using pre-made templates.
You won't have to spend hours trying to figure out how to use a complicated design software or even how to make a video.
FlexClip's templates are already professionally designed, easy to follow, and simple to create your own stand-out version.
In this FlexClip review, we will go over features, uses, and cost to find out if this GIF, slideshow, & video creation software is worth your time and money.
FlexClip Features
FlexClip is like the Canva of video creation.
But while there are a ton of great social media graphic generators out there, there are not nearly as many high-quality video creators available.
Where Canva specializes in creating great shareable images for social media, FlexClip does the same for making videos and GIFs easily.
FlexClip does not have AI integration like a graphics software such as Ocoya has, but it will definitely safe you a lot of time compared to using standard video creation methods.
Let's go over all of the features of the FlexClip software and how you can use it.
Pre-Made Video & Slideshow Templates
Choose from thousands of already pre-made video, slideshow, and GIF templates that you can just swap out the text and some images and have your own video.
Select from different categories in the template library, including but not limited to:
Most popular
Editors picks
Promo & sales
Lifestyle
Real estate
Intros & Outros
Education & Training
Corporate
Birthdays
With the amount of different templates for different industries and uses, there is sure to be a style to match your brand and intentions.
If the template isn't exactly perfect for you, just edit and customize any features you need and make it your own.
This will be perfect for most users, and there are a ton of well-made designs to choose from.
Upload Your Own Media
Have your own images and videos to add? Create a personalized and unique video quickly using FlexClip's templates and your assets together.
Using your own media combined with FlexClip's other visual assets will allow you to create a better video quicker than using a software such as Adobe Premiere or Final Cut Pro.
Add Stylish Text
Similar to Canva or Crello graphic design software, FlexClip has a huge library of different text styles, fonts, and text design options to add to your videos.
Stock Video Library
One of the most valuable parts of the FlexClip subscription is access to all of their huge library of stock videos.
Stock videos are some of the most expensive and difficult media to work with, especially when you need to use a complicated video software to trim and adjust them.
Luckily, FlexClip makes it easy; Search for a type of video you want, then you just click the '+' sign to add the video to your project. Trim it and easily add transitions to click-together a video in mere minutes.
Stock Photo Library
All the stock photos you can find on the plethora of other websites, but all in your video editing library. Simply click the '+' symbol to add the photo to your current 'slide', and adjust it as needed.
There are millions of professional looking stock photos to choose from in any industry you can imagine, all included in your subscription.
GIF Library
Nothing tells a story quite like a GIF or a meme.
Quickly add pre-made GIFs to your project or create your own with your own videos.
However, there is a notice that it is not recommended to use these GIFs for commercial use according to their terms of service.
Music Library
Since your videos and slideshows probably shouldn't be completely silent, you can choose from a ton of license-free music and sounds to use.
If you already have your own audio you would prefer to use, simply drag it into the editor to upload.
Graphical Elements
Spice up your slides and video frames with buttons, badges, icons, and millions of other graphical elements.
These aren't all cheesy static images either, many of them have animations to help give your video a little more movement.
Overlay Templates
Overlays are graphical animations that can slide overtop of your existing frame or slide to make it pop out more.
Combining overlays with the existing templates and stock videos allows you to easily create more unique sections and videos.
Pre-Made Backgrounds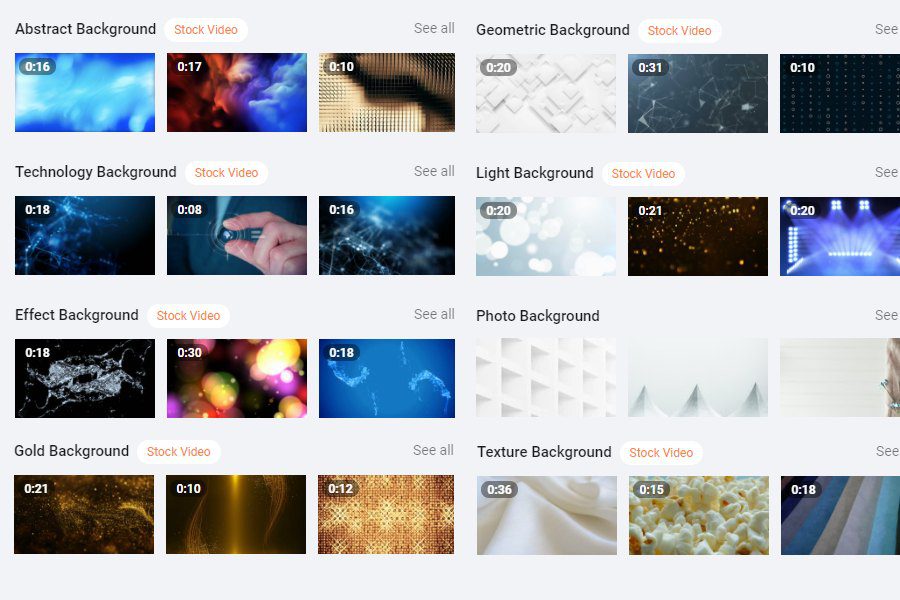 Instead of a boring and bland single-color background, you can make your video stand out more with different styles such as:
Gradient backgrounds
Geometric backgrounds
Effect backgrounds
Photo backgrounds
Flowers, gold, hearts, polygons, nature & more themes
Watermarks / Branding
Make sure your videos stay uniquely yours and aren't easily stolen or reused by watermarking or branding your videos with your logos or brand identity.
Simply add text or upload your logo and you can watermark your videos. This is a premium feature only available on a paid plan.
Ratio Selector
You can create videos that work perfect for any device or social media platform by selecting your video ratio.
Some ratios are better for Facebook or Instagram, while others will be best for developing professional videos.
FlexClip offers the following ratios for video creation:
16:9 (Horizontal Rectangle) – Standard desktop size
1:1 (Square) – For mobile devices and social media
9:16 (Tall) – For full-screen mobile device videos
4:5 (Vertical Rectangle) – For in-feed social media platforms on mobile devices
21:9 (Widescreen) – For widescreen videos and movies on TVs and desktops
Export Options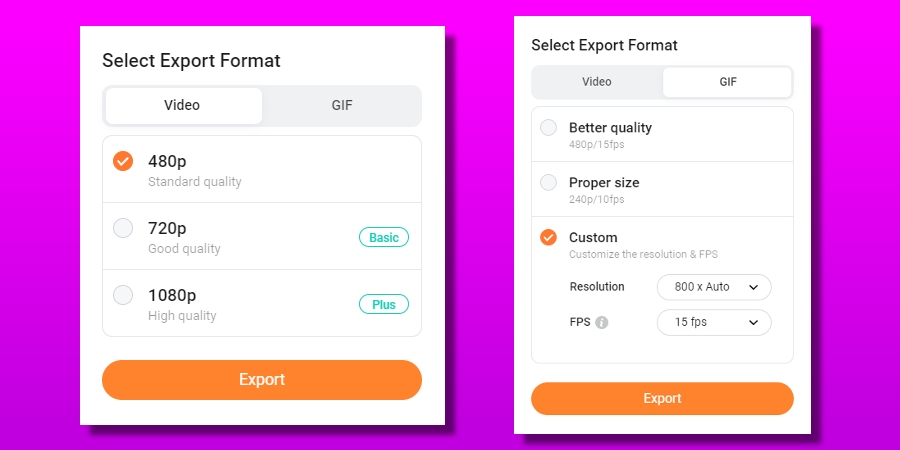 Depending on your plan, you have multiple ways to export your videos.
Videos
When exporting a video from FlexClip, you have the following options:
480p (Low / Standard Quality) – Available on free plans,
720p (Good Quality) – Available on the Basic plan or above
1080p (High Quality) – Available on the Plus plan
In general, the best option here would be to always export in 1080p, as that's going to be the best quality to play on any mobile or desktop devices.
However, for some personal uses, 480p quality is tolerable, but not recommended.
GIFs
When exporting GIFs, there is a slightly different way to measure quality, measured by image quality and frames per second, of FPS.
There are 2 default export settings for GIFs in FlexClip:
Better Quality (480p / 15fps)
Proper Size (240p / 10fps)
You also have the option to choose a custom resolution and FPS, up to a maximum of 15fps.
The higher the quality and more fps in the videos mean that the file size will be larger, so keep that in mind when picking where you'll upload it.
Free vs Paid Version of FlexClip
You can start creating projects for free in FlexClip to test out the features and functionality yourself before you ever make an investment.
However, there are some limitations and branding features that will probably push you to pay if you are doing social media management or creating professional videos.
Free Version Features
With the free version of FlexClip, you can have a maximum of 12 projects at a time and can download them at 480p standard definition.
You are able to use only 1 stock photo per project and have a maximum video length of up to 1 minute.
When you export and download your project, you will have to be okay with a 'FlexClip intro' at the beginning of your projects.
While the free version of FlexClip might be okay for someone using it to create personal videos, it is mostly to give you a chance to check out their software and decide if it will work for you.
Sign up for the free version here to try it out for yourself.
Paid Version Features
If you decide to upgrade to a paid plan after testing out the free version, you can get your videos in higher quality and use more assets per video.
You will also won't get that FlexClip branding in your intros, which will be pretty necessary if using it professionally.
In the premium versions, you are able to add more stock videos and photos into your projects to create longer, and more professional looking videos.
Basic and Plus plans allow you to save any projects in the cloud, completely removing the need to store and save your projects on your PC until you're ready to use them.
FlexClip Cost: Is It Worth It?
Considering the highest tier FlexClip Business plan is only $29.99 per month for unlimited projects up to 30 minutes long and unlimited stock video usage, this software is a definite buy from us.
If this is a software you can see yourself needing for the foreseeable future, it is highly recommended that you simply purchase the yearly plan.
By purchasing yearly, you're saving $120 a year off the total price of your subscription; the $29.99 Business plan is only $19.99, and the Plus plan goes from $19.99 to only $9.99 per month.
If you are not making as long of videos and don't need as much cloud storage space, the Plus plan is a great option for creators and social media managers.
Not to mention, there is no other software as affordable as FlexClip with all of these functionalities.
You can expect to be paying $60 to $100+ per month for an equivalent video editing software, and that doesn't include stock video access (which can get extremely costly buying by themselves).
Not to mention you will need to personally source all of your own resources when using other professional video software.
If you use our link here, you also get an additional 10% off your subscription.
FlexClip Review Conclusion
Pros
Affordable
Huge selection of images and videos
Eye-catching templates
Great UI
Easy to use
Desktop app available
Create professional and unique videos in mere minutes
Cons
Takes some time to learn if attempting longer videos
Need paid version for most functionality for marketers
Hopefully, this FlexClip review has helped you decide whether this software is worth it to you or not.
If you're a marketer who spends a lot of time on videos, this software will definitely be worth it.
Whether you're creating video ads for businesses or clients, or just shareable social media posts, you can create it all in minutes with FlexClip.
Have you tried this yet? How does it compare to other existing software you use? Let us know your thoughts!