Read our Hypotenuse AI review to help decide if this content generation software is worth your time and money.
What is Hypotenuse AI?
Hypotenuse AI is the latest artificial intelligence powered writing assistant to hit the market, and it offers new and innovative features that could change the way you publish content going forward.
What makes Hypotenuse AI different from competitors?
I'm sure at this rate you've heard of or even paid for several different AI writing assistants, testing them out and trying to find one that matches your business best.
Hypotenuse AI doesn't just write for you, it helps you to truly craft your posts, product descriptions, and ads.
This leads to a much higher quality output from their AI than most competitors.
One of the most unique features of Hypotenuse AI is that you can import and export your ecommerce products into and out of their platform to generate awesome descriptions.
They also have a built-in image generator where you can simply describe the image you want to see and the AI will create it!
Who is Hypotenuse AI for?
Hypotenuse AI is perfect for writers and digital marketers who want to save time spent writing content or save money from hiring freelancers.
As a digital marketer myself, I know firsthand how time-consuming it can be to create high-quality content on a regular basis. Hypotenuse AI can help take some of the burden off by creating content that is not only error-free and engaging, but also optimized for search engines.
Additionally, businesses who are looking to scale their content creation efforts will benefit from using Hypotenuse AI. By automating some of the content creation process, businesses can focus on other important tasks such as marketing and promotion.
Overall, Hypotenuse AI is a valuable tool for anyone looking to streamline their content creation process and produce high-quality content with minimal effort. Be sure to read our full review to get a more in-depth understanding of all that Hypotenuse AI has to offer.
Features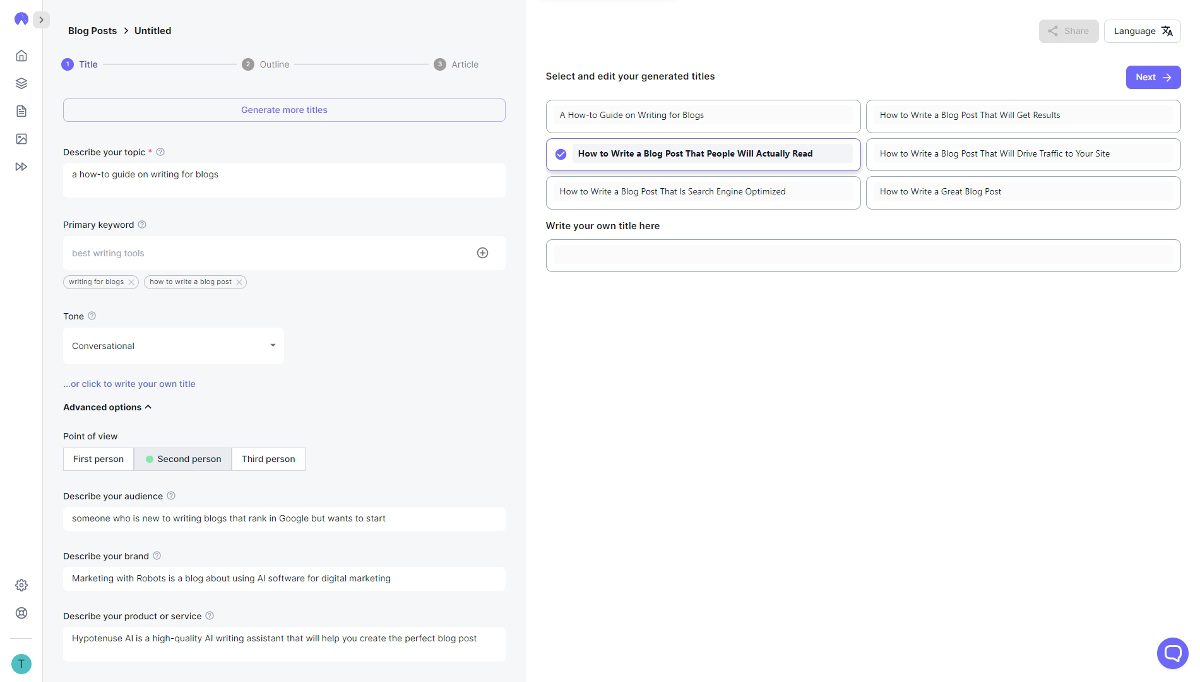 Blogs
Using Hypotenuse AI's detailed article generator, you can easily create high-quality blog posts with minimal effort.
First, provide your topic and desired SEO keyword to generate the perfect blog post title.
Then, choose from one of the outlines generated by the AI writer to get a clear structure for your post.
Finally, use the AI to generate your first draft (and even second and third drafts if needed).
This process saves time and helps ensure that your blog post is not only well-written and error-free, but also optimized for search engines.
Whether you're a professional blogger or just starting out, Hypotenuse AI's article generator can help you produce engaging and effective content quickly and easily.
Product descriptions
With Hypotenuse AI's advanced product description generator, you can easily create high-quality descriptions for your products in a fraction of the time it would take to write them manually.
To get started, simply upload your product images and add product attributes or an original description. Then, let Hypotenuse's AI do the work for you by crafting fresh, unique copy instantly.
This tool is perfect for e-commerce businesses looking to scale their content creation efforts and save time spent writing product descriptions.
Plus, the AI-generated descriptions are optimized for search engines, helping to increase the visibility of your products online.
Try Hypotenuse AI's product description generator here and see how it can revolutionize your content creation process.
Headlines and slogans
Hypotenuse AI's slogan generator is a powerful tool for creating unique and catchy headlines and slogans that are tailored to your target audience and business.
To use this feature, simply type in the name or type of product you sell and add in primary keywords. Then, click the "generate slogans" button and let the AI do the rest. You'll receive six potential slogans and supporting tag lines, giving you plenty of options to choose from.
This feature is perfect for businesses looking to create standout slogans that grab the attention of potential customers and set their products apart from the competition.
Plus, the AI-generated slogans are optimized for search engines, helping to increase the visibility of your products online.
Try Hypotenuse AI's slogan generator here and see how it can help you craft compelling headlines and slogans with ease.
Social media captions
Hypotenuse AI's social media caption generator is a must-have tool for anyone looking to save time and create engaging captions for their posts.
The process is straightforward: simply add details about your brand and target audience to give the AI context, and then browse through the captions generated.
You can even customize the captions further with the built-in editor, and preview how they will look on your Instagram posts before publishing.
The best part? If you're not satisfied with the options presented, you can simply hit "Generate Again" to get fresh ideas.
Google & Facebook Ads
As someone who has used Hypotenuse AI's ad copy generator, I can confidently say that it is a valuable tool for anyone looking to save time and create high-quality ad copy for their Google and Facebook campaigns.
The process is simple: just describe your topic and desired keyword, and then select all the ad variants you need.
The AI will do the rest, generating fresh and compelling ad copy in minutes. Plus, if you need more variants for a new campaign, you can simply hit "Generate" again and get a fresh set of ads.
Overall, I found Hypotenuse AI's ad copy generator to be efficient and user-friendly, and it has definitely helped me to optimize my ad campaigns with minimal effort.
Image generator
We all know how time-consuming it can be to search for the perfect image, whether it be creating our own graphics, designing our own pictures, or scouring the internet.
Hypotenuse AI's image generator eliminates this struggle by allowing you to simply describe the image you want and letting the AI do the rest. The result is a captivating image that is tailored to your specific needs and saves you time in the process.
However, like with all current AI image generators, you have to have a good prompt and run a few tests before you get back a usable image.
Pros
There are a lot of great things to talk about with Hypotenuse, and it's been exciting testing this new product.
Let's go over some of the unique perks.
Built-in product catalog
Hypotenuse AI's built-in product catalog is a convenient and efficient way to manage your product content all in one place.
With the ability to import existing products from platforms like WooCommerce and Shopify, you can easily bring your existing products into the Hypotenuse AI platform.
From there, you can use the AI to create compelling product descriptions that are optimized for search engines and sure to grab the attention of potential customers.
Not only does this save you time and effort in creating product descriptions manually, but it also keeps all of your product content organized and easily accessible in one convenient place.
Blog Creation Process
Instead of just winging a blog post based on a keyword or a blog title, Hypotenuse AI uses an entire blog creation flow to give you the best possible output based on your criteria.
Depending on how specific you want to be or not, you can either fill out the entire blog builder form or just the main parts.
Compared to other instant AI article generators, following that process will give you a much better blog post in the end.
Use this link to create a few 1,000 word blog posts for free with Hypotenuse.ai.
Built-in Plagiarism Checker
No need to worry about plagiarized content or Google penalties with Hypotenuse.
Check all your content with their free built-in plagiarism checker
AI Content Detective for Research
The tool provides key talking points and sources to reference, allowing you to hit the ground running with your research.
Additionally, it extracts relevant insights from live content on the internet in minutes, saving you the time and effort of poring over data yourself.
The AI-powered content research tool even helps you create entire factual articles, using the researched talking points to feed the AI and generate a first working draft.
And, when it comes to credibility, the tool provides links to citations for the researched content, ensuring that you can easily cite your sources within your content.
Extremely High Quality Content
If you've used any other AI writers at all, you know how mediocre some of the content generated from them can be.
This is not the case with Hypotenuse AI; the quality of their content is above and beyond most others I have tried.
It has to do with the way that their software helps you build the titles, outlines, headings, and paragraph text to all flow together.
I believe that they have also fine tuned the input from OpenAI's davinci GPT text generation API to have some of the best output in the industry right now.
Document Export
Exporting my blog posts and content directly into WordPress and Shopify has saved me a considerable amount of time and effort.
The process is straightforward and the exported documents are always accurately formatted and ready to be published, unlike with some other AI blog export tools we've used in the past.
Effective Credit Usage
Creating an entire 1,000 word blog post completely crafted by Hypotenuse AI only consumed 4 credits, which I found to be quite generous.
Product descriptions only use up a single credit per product as well.
Compare these to other AI writing assistants that ding you for every single word that the AI produces, even if it's garbage.
Cons
Now that the good stuff is out of the way, let's take a look at the list of cons we found while testing out Hypotenuse.AI.
Credit limitations
The credits are both a pro and a con in this case.
While the credit usage is very effective within the software, there is a seemingly low amount of credits given in your subscription.
However, when you calculate how many blogs or product descriptions you can write with just a few credits, it does even out.
I imagine many people will not even reach their limits performing actual work with good inputs and being conservative with your usage.
Image generation quality
I've used many different AI image generators, and they're all pretty mediocre when it comes to creating images for businesses.
You can't really have realistic images created by the AI, it's mostly abstract 'art'.
Even with the new DALL E 2 image generator from OpenAI, people look like mutants and there is typically always something wrong.
Unless you need a more abstract or artistic image, this is probably not the most important function in the software, I look at it more as an extra perk.
Cost / Pricing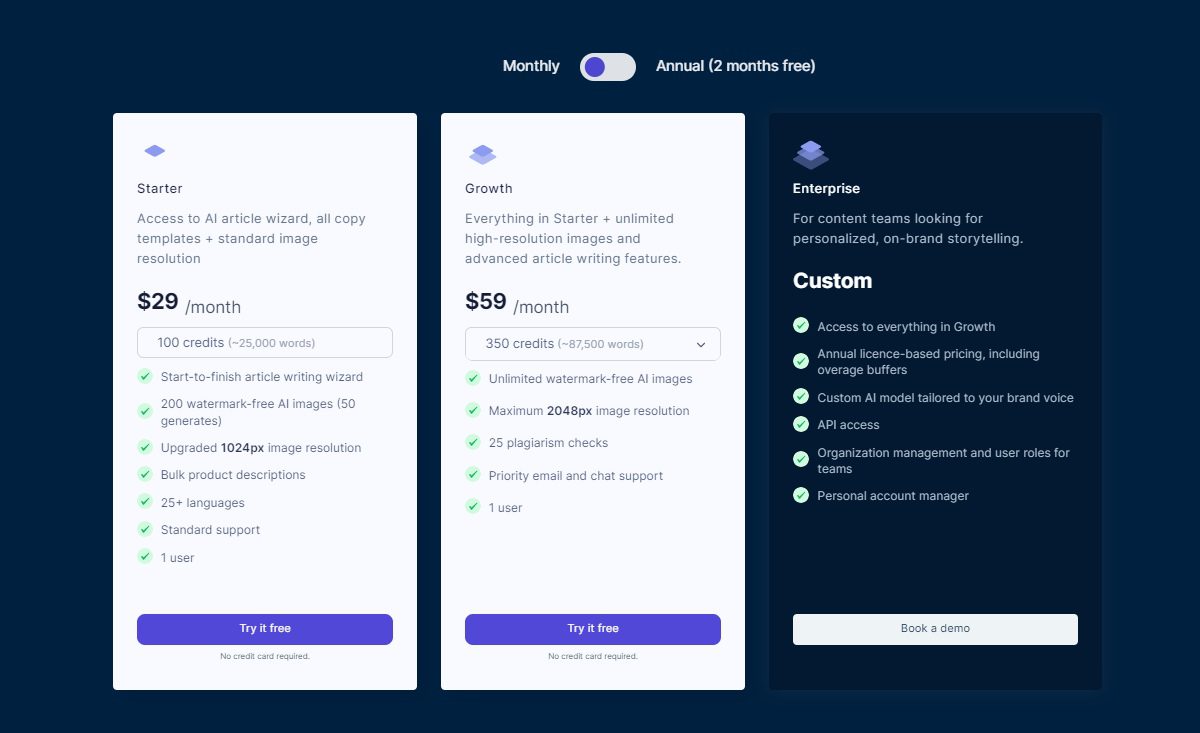 Hypotenuse AI offers three pricing plans for its AI-powered content creation tools: Starter, Growth, and Enterprise.
The Starter plan costs $29 per month and includes access to the AI article wizard and copy templates, standard image resolution, and the ability to generate 200 watermark-free AI images. The Start-to-finish article writing wizard, bulk product descriptions, and support for 25+ languages are also included in this plan.
Theoretically you could create around 25 1,000 word blog posts every month on this plan for $29, which is a steal.
The Growth plan offers everything in the Starter plan, as well as unlimited high-resolution images and advanced article writing features. This plan costs $59 per month for 350 credits (about 87 blogs), or $109 per month for 700 credits (or 175 blogs).
The Enterprise plan is a custom, annual license-based plan that includes everything in the Growth plan, as well as a custom AI model tailored to your brand voice, API access, organization management, and a personal account manager.
Most people will be able to get by with the starter plan, and is a great introduction to the software with affordable pricing.
Power users or agencies will be most likely to go with the Growth plan to have enough credits to create hundreds of blogs, infinite image generation, and the plagiarism checker function.
Additionally, a large ecommerce store would also benefit from higher credit plans when using their product description generator.
Comparing this to other AI writers on the market, the pricing is extremely competitive.
Hypotenuse AI Review: Is It Worth It?
We're going to give Hypotenuse AI a 9/10 rating for it's excellent UI and product.
The step-by-step blog creator is extremely helpful, especially to beginner writers or someone who is not sure what exactly to write about.
I love the amount of control and high quality outputs that you don't get from less guided software.