If you're like me, you probably struggle with coming up with fresh and engaging content ideas for your social media accounts. You want to post regularly and consistently, but you don't want to repeat yourself, bore your audience, or waste too much time.
That's why I was excited to try out Rapidely, a tool that claims to generate infinite social media post ideas for any niche or topic.
In this blog post, I'm going to share my Rapidely review and show you how it works, what it can do, and whether it's worth your time and money.
What is Rapidely?
Rapidely is an AI-powered social media posting tool that is perfect for social media managers who want to create high-quality, relevant and engaging content without spending a ton of time on it.
With Rapidely, you'll never run out of ideas for posts, stories, and reels.
This tool is seriously a lifesaver when it comes to generating new ideas. The AI technology is lightning fast and can produce text and feedback faster than you can say "hashtag".
Plus, it's super easy to personalize the text to make it more tailored to your brand.
The best part? Rapidely helps increase engagement by posting well-written and interesting content on a regular basis.
The H.I. team behind Rapidely is always up-to-date on the latest social media trends, so you can be sure that you're staying ahead of the curve. If you're looking to take your social media game to the next level, Rapidely is definitely worth checking out.
Who is Rapidely for?
Rapidely is extremely versatile and is perfect for:
Social media managers
Marketing agencies
Influencers
Small businesses
Ecommerce sellers
Entrepreneurs
They have made their UI incredibly simple to create infinite posts ideas for any industry with AI.
Each industry has it's own set of post ideas and trends that are working that you can take advantage of.
How to use Rapidely
It's incredibly easy to use Rapidely right out of the gate.
Once you've got your account set up and are ready to start, here's all you need to do for your first post:
Pick an idea you like from their list
Tell the AI what you want it to talk about
Get an optimized social media post
Schedule it from within the platform or copy the text
Use Canva to create a quick related graphic or video
You're done! Now schedule your next one…
Find inspiration from their provided international holidays, popular quotes, story ideas, and other AI generated post ideas.
Post Idea Examples from Rapidely
Here are just a few interesting post ideas that it gave me that go beyond the standard social media post:
Do you prefer X or Y? – Ask your audience what their preference is in relation to the topic of the post.
Before / after product – Compare what they HAVE before and after using your product / service
Our profession needs to… – Make a statement of what your profession needs to do moving forward to create a bigger impact in the world, then share what your business is doing currently.
Pros
There's a lot of unique things about Rapidely that everyone will be able to take advantage of.
With so many AI-based social media tools out there, it's hard to know which one will work best for you.
AI Hashtag Generator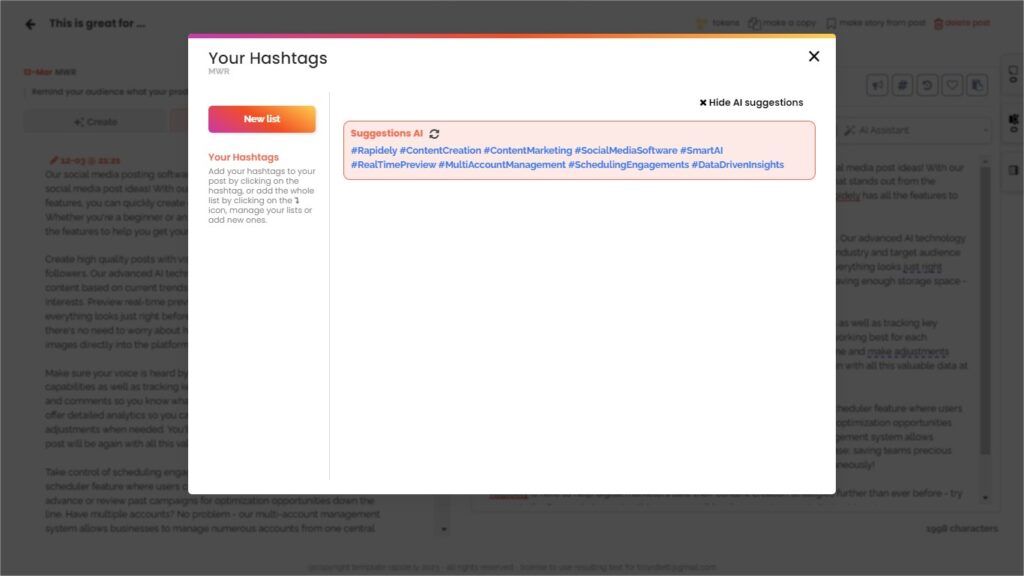 The difference between Rapidely's AI hashtag generator and asking any other tool that pulls from OpenAI is that you get an actual list of great hashtags based on your post content.
The best part? This all happens automatically with the click of a button.
You can even save set hashtags you want to consistently reuse in your account for later posts.
Affordability
This is one of the more affordable AI social media tools you can get.
Only $19 for a single account and full functionality, or $49 for 3 accounts, and only $9 per account additional.
Even if you're just pumping out content for your own journeys, you know that consistent social media posts is key.
However, if you're taking money from clients to post for them, this is an easy decision.
Not only is your work going to be done in mere minutes, but you're also going to be making great margins. It's a great and smart time-saving tool.
Post Content Quality
Sure, you can use ChatGPT or Jasper and ask them to create a social media post for you and it will scrape together something reasonable.
But Rapidely specializes in social media posts, and knows exactly what to write.
No need to worry about coming up with an amazing and detailed prompt to feed the AI, that's already done for you.
Just pop in a few words and out comes a ton of extremely high-quality social media text ready to post on Facebook, LinkedIn, Instagram, Twitter, etc.
Even if you're not satisfied with the first outputs, there are functions to have it rewritten, shortened, or optimized with a click of a button.
Track Industry Trends
By scanning through the 'Tips & Trends' section, you can keep tabs on what the popular audio, visual, and content is working for the industry you've selected.
Try to keep your brand message focused on what is already working in your industry for the highest chance at success.
Built-in AI Chat
Recently, they have added an AI chat function into the platform with ChatGPT's API.
You can even use the AI chat function on Rapidely when ChatGPT's website is full and you can't access.
The cost of Rapidely is even less than the cost of ChatGPT, so even if you just wanted that functionality, it would be the smarter buy.
Another way to look at it, is that the cost of ChatGPT Premium is the same as the premium version of Rapidely, where you get ChatGPT included.
It works the exact same, and you can use it to get even more social media post ideas or ask it to rephrase or switch up wording you don't like.
Infinite Social Media Post Ideas
I got a TON of inspiration for different social media posts, both for my own projects and for the agency I work for.
There are a lot of really great ideas that you'll see right away on the dashboard that you can make use of.
Depending on whether you want to promote something, show your authority, get engagement on your post, educate your audience, or anything in between, there is a quick post for it.
It's easy to make each one of them different since you will be putting in different information for the AI to write about.
Works with Many Different Industries
When you're setting up your profile, you will choose what industry you'll need ideas for.
Depending on the industry you choose, Rapidely will give you different and unique ideas and topics specific to your audience that you can consider posting.
As of the time of this review, here is the complete list of the industries that were available to choose from:
Business Services – administration, V.A., accounting, finance, legal, SaaS, travel organization, events, marketing, etc.

Design – graphic design, illustration, web design, lettering professionals
Real Estate – real estate sales, purchase, rental professionals
Photography: portrait – portrait photographers (not exclusively wedding or newborn)

Photography: maternity – photographers specialized in pregnancy and newborns

Photography: wedding – wedding photographers (can be used by videographers as well)

Other services – services / advice for individuals (interior designer, insurance consultant, finance, legal, building, investments, event organization, etc.)

Products – I make or sell physical things (fashion, beauty products, decorative objects, food, …)

Beauty – production & sales of cosmetic products (skin and hair treatments, essential oils, soaps, make-up…)
Jewelry & Accessories – jewelry designers
Fashion – fashion and accessories designers (excluding jewelry)
Home decor – objects to decorate living spaces
Food & Wine – Food producers such as chocolatiers, butchers, cheese makers, organic food products, bakeries, pastry shops, teas, coffees, …)
Health & wellness – Health and wellbeing products
Other Products – I make or sell physical things

Teach – I teach or train people to develop their skills (music, languages, professional development, public speaking, business coaching, …)

Business coaching & training – coaching & training for businesses and entrepreneurs
Other trainings / teacher – I teach or train people to develop their skills (music, languages, professional development, public speaking, business coaching, …)

Experiences – I help people live good times (travel, events, restaurants, ….)

Restaurants – restaurants & take-aways
Travel & Accommodation – Travel agents, hotel and resort managers, tour operators, …
Other experiences – I help people live good times and create memories (travel, events, restaurants, ….)

Health & Lifestyle – I help people and their loved ones with their lifestyle, health & fitness (beauty, life coach, fitness, doctors, psychology, vets, home organizing, spirituality, …)

Beauty & wellness – beauty services such as beautician, masseuse, slimming treatments, nail salon, hairdressers, …
Life coaching – life coaching and personal development (non-therapeutic)
Fitness & movement coaches – Fitness trainers and coaches, physical health (fitness, pilates, group classes, boot camps, …)
Alternative medicine – Alternative practices to treating illnesses and diseases (non-medical). Naturopathy, acupuncture, osteopathy, aromatherapy, …
Nutritionists – Specialists in food and nutrition who work with people to promote healthy eating habits and help them achieve their goals.
Psychology / therapy – psychologists and therapists
Spirituality – clairvoyance, guidance, angels, connection to the invisible, intuition, tarot cards, …
Helping Others – I help people and their loved ones with their lifestyle, health & fitness (life coach, fitness, doctors, vets, home organizing, spirituality, …)
You can pick up to two of these categories that most closely match yours to have more personalized post ideas generated for you.
Cons
While we love Rapidely for its speed, simplicity and convenience, we also want to be honest and transparent about its limitations and areas for improvement.
In this section, you will find honest reviews, constructive feedback and helpful tips from our users and experts.
It's a Small Startup Company
Simply put, Rapidely is a small startup company located in Switzerland, and their primary language is in French.
Some people might question the longevity of the software or the company, but I wouldn't worry about it personally.
There are some spots on the website where your browser will need to translate since it is in French and not fully in English yet.
Some of the inspiration text and popular trends are from French social media profiles or French Canva templates, so I had no idea what they said and my browser didn't translate it.
I had no problem figuring out what everything else was, I use a lot of different software every day, but it is worth mentioning.
No Calendar Export to Share
There is currently no way to download and export your calendar post ideas so that you can share them with an outside source, like a social media client.
The only way to collaborate is to invite them to the Rapidely platform, which personally would not work for some of the businesses that I have associated with.
While it's all laid out beautifully in the platform, I would love to see a more white-labeled, downloadable PDF or something that I could use to show my clients without giving away the secret sauce of the platform I'm using.
Can't Post Directly from the Platform
Unfortunately, due to limitations from Rapidely's AI service provider, they are not permitted to publish directly to social media.
You will be putting together your calendar with ideas and images, and then downloading and copying them to publish through the platform directly.
This will be a pretty big setback for some people since there are other tools that are able to post directly, like Ocoya or Predis.
Rapidely Pricing
Rapidely offers three different plans for their social media posting software to cater to different users.
The first plan is designed for individual users, the second plan for teams and account managers, and the third plan for businesses. In this article, we will review and compare these plans to help you determine which one is suitable for your social media management needs.
The first plan, called Plan 1 or Single Account, costs $19 per month and includes one business account and one user account. It offers unlimited post and story ideas, international days, Canva templates for your designs, and monthly challenges.
Additionally, it provides access to trending audio recommendations and what's working in your field. Plan 1 also comes with 300,000 AI tokens per month, which allows for automation and scheduling of posts.
The second plan, Plan 2 or Community Manager, costs $49 per month, and it's tailored for teams and account managers.
It offers three business accounts and one user account, making it an excellent option for agencies or larger businesses with multiple social media accounts to manage. Any new accounts are only $9 more per month.
Plan 2 includes unlimited post and story ideas, international days, Canva templates for your designs, and monthly challenges.
It also offers access to trending audio recommendations and what's working in your field. Plan 2 provides 500,000 AI tokens per month per account, which offers greater automation and scheduling capacity than Plan 1.
Plan 2 offers collaboration with team members, and you can add extra team members for $20 per month, making it a more efficient option for teams that need to delegate tasks.
The third plan, Plan 3 or Enterprise, is suitable for businesses and is available at a rate on request. Plan 3 includes one business account and three or more users, depending on your business's size and requirements.
It offers everything in Plan 2, such as unlimited post and story ideas, international days, Canva templates for your designs, and monthly challenges. Plan 3 includes a social accounts audit, a dedicated editorial strategy, company-specific templates, AI copywriting personal training, company-specific Canva templates, and priority support.
Plan 3 provides one million AI tokens per month, allowing for high automation and scheduling capacity. With the added features and personalization of Plan 3, it's an ideal option for businesses that need to develop a comprehensive social media strategy and require priority support.
Is Rapidely worth it?
If you're currently in the market for a social media posting software, Rapidely should definitely be on your radar.
It's hard to find another social media posting software with all of these functions that will work with as many businesses as you need without outrageous pricing tiers.
I believe that anyone who is posting on social media for multiple accounts is going to find this tool helpful.
Especially if you are an agency managing multiple social media accounts for clients, the cost of Rapidely more than pays for itself. It's $49 for 3 accounts, and then $9 for every account after.
Try to keep the team members low, since each team member would add $20 to your bill.
However, we have single clients that pay thousands per month for this service alone so this cost is miniscule.
Rapidely Review Rating
Overall, we'll give Rapidely an 8/10 for their social media post idea tool.
I have been using Rapidely for a few months now and I must say I am impressed by their implementation.
There are a lot of social media post generators to choose from anymore, but Rapidely is extremely good in it's own right.
It has helped me create engaging and relevant content for my Instagram account without spending too much time or money. Here are some of the reasons why I rate it 8/10:
Affordability: Rapidely offers a reasonable price for its monthly subscription, which gives me access to over 30 templates and ideas each month that I can customize to suit my brand and audience. Compared to other similar tools, Rapidely is a bargain.
Built-in AI chat: Rapidely has a feature that allows me to chat with an AI assistant who can give me feedback and suggestions on how to improve my captions and posts. The AI chat is friendly, helpful and smart. It also helps me avoid grammar and spelling mistakes.
Quality of ideas: Rapidely provides me with fresh and trendy ideas for my posts based on my industry and niche. The ideas are not generic or boring, but rather creative and captivating. They help me stand out from the crowd and attract more followers and customers.
Specific recommendations: Rapidely also gives me specific recommendations on how to optimize my posts for maximum reach and engagement. It tells me the best time to post, the best hashtags to use, the best format to choose (such as carousel or reel), and the best call-to-action to include.
Overall, Rapidely is a great tool for anyone who wants to grow their business on social media without hassle or stress. It's easy to do and saves me time, money and energy while keeping me consistent in my posts, which I'm unbelievably bad at.
That's why I give it 8/10 stars.
Try Rapidely for yourself completely free with this link and uncover your next social media post ideas!